---
Using current research about children's development and learning, HeartPrints has designed an early learning program that reflects the principles and guidelines established by the National Association for the Education of Young Children.
---
Based on a developmental approach, the curriculum focuses on the whole child and fosters social, emotional, cognitive, physical, and aesthetic development. The latest research about early literacy and numeracy learning in young children guides the day-to-day curriculum experiences in the center. In the area of social and emotional development, a primary focus is to help children learn to manage their feelings and use conflict management skills with the support of a caring and nurturing environment.
---
Peaceful conflict resolution
Wilderness exploration
Critical thinking
Kindness
Project-based learning
Individualized learning
Inclusion
Spanish, Yoga, and Art classes
Field trips & in-school programs
Parent-involvement events
Step One: Come for a visit
---
We highly recommend that interested families Attend an Open House. Stop into HeartPrints to see the space, sample activities, and learn about our toddler, preschool and Kindergarten programs!
You do not need to register for open houses
You are welcome to bring your child/children with you
The majority of HeartPrints' programs follow a school year calendar beginning at the end of August and ending in beginning of June. Enrollment for the upcoming school year opens in January for current families and February for new families. Registration remains open until all spaces are filled. Children must be three years old to register for our preschool programs. Children must be five years old by September 30th to register for our kindergarten.
---
Upcoming
Open House Dates
---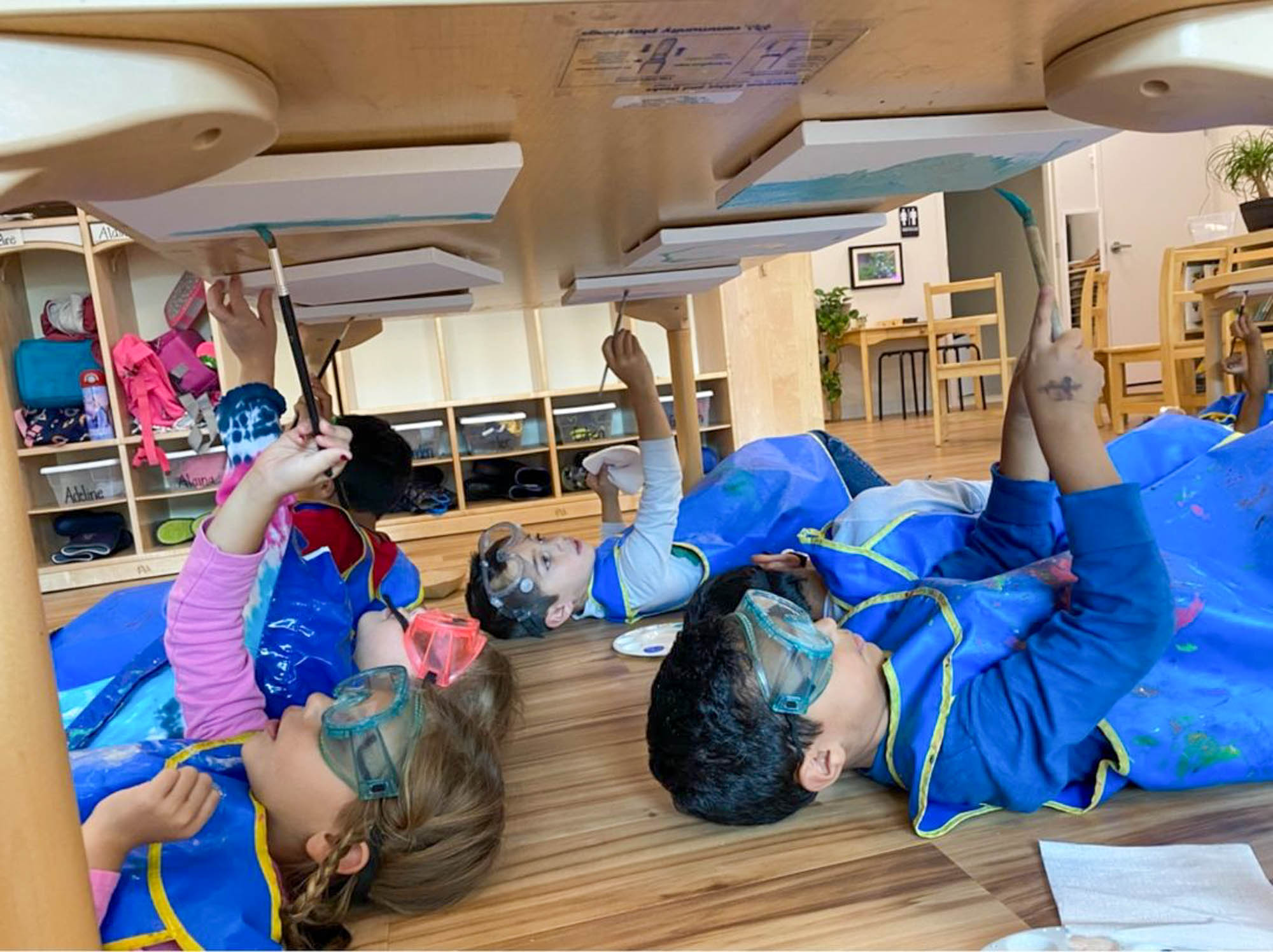 ---
Heart Prints Center for Early Education is an organization that strives for a more peaceful world by involving young children, their families and their teachers in a process of self-directed, lifelong learning which will encourage young children to think clearly and creatively, to discover cultural and aesthetic values, to respond sensitively to others, to manage conflict respectfully, and to recognize they are members of the worldwide community.
As I am sitting by the office today, 2 staff members are discussing the plans for a special Under the Sea program they were offering on Wednesdays in February. Here is the quote, "could you pick up 6 un-gutted squid, one octopus tentacle, and one closed shell clam". "I will look into renting some scuba gear and a tank". It doesn't get better than that! If only I could join the class. Can't wait to see the Marvel in their eyes.
-Tina K.
My son Noah is a Type 1 Diabetic and is diagnosed with Special Needs. Heart Prints is not your ordinary school, it is extremely special and has an amazing staff! The staff here have always nurtured the growth and development both socially and educationally of my son. Our family is so grateful to have found such a competent group of caring individual that are truly invested in each individual child that walks through their doors!
-Ashley
Our time in 'Come Play with Me' made the transition to Preschool seamless at two and a half years old; in fact, the only tears that were shed occurred at the end of the day when my daughter didn't want to leave. There is something new going on at Heartprints every day from the activities set out to the carefully planned art projects to the fun sensory bins and homemade Playdoh to the holiday celebrations. The best part is that we both wake up excited to go to preschool, and for me, that is the most important!
-Lauren S.
Heart Prints has been a most amazing experience for my daughter! In her two years at the school she has developed better self confidence, more responsibility for her learning and has the ability to seek answers to her questions with efficiency. The talented educators provide rigor that challenges and motivates at the same time and they are nurturing and encouraging all the while. The most impressive thing for me is the way that the teacher(s) truly know my child and that enables them to bring out her best.
-Maureen
After moving here from out of state, HeartPrints Center for Early Education quickly became a place my kids, and family could feel at home. The teachers were all so warm and welcoming to us and made my boy's earliest experiences of learning a joy. The curriculum has easily prepared my oldest for his transition to elementary school, given him the tools to be excited about school, make new friends and feel confident in his learning capabilities. As a parent, I feel lucky to have found a school that I know will nourish and prepare my kids for their next learning adventure.
-Kristen S.
We have been a Heartprints Family for the past 4 years. I can not say enough positive things about the school.  The teachers are all excellent and care so much about each and every student.  I am constantly blown away by the activities and projects my children do at school.  No two classes are the same.  The teachers take the lead from the student's interest and base lessons and curriculum around each individual class.  My kids have grown so much throughout their time at Heartprints and my son was well prepared when he entered kindergarten.  Between Spanish, yoga, gardening, in house field trips, the extensive art studio, the creek and the outdoor classroom, my kids are never bored and truly love going to school.
-Amy F.